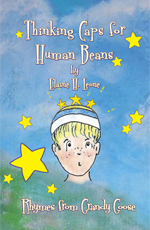 Book #3 in the Rhymes from Grandy Goose series is now available.
Thinking Caps for Human Beans
(one hat that I have never seen is a thinking cap for a human bean) is a witty gem of quirky verses from Elaine H. Leone's starlit pen that will delight the young reader.
Her cows do not jump over her moons. Her dishes do not run away with her spoons but her rhymes remind us of another …
Do you think she's Mother Goose's
mother
? Available on
Amazon.com
and (soon) Barnes and Noble.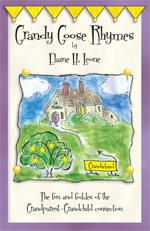 Elaine H. Leone's second book, Grandy Goose Rhymes, is now available through bookstores and Amazon.com. With 100 verses and over 90 illustrations, this clever collection adds to the magic, warmth and humor in depicting the fun and foibles of the grandparent-grandchild connection.
Witty and wise and ideal for intergenerational reading, these insightful, singable verses are a combination of humor and common sense that will appeal to all ages in Grandieland.
Available on Amazon.com and Barnes and Noble!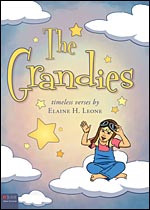 Elaine H. Leone's 
The Grandies
is a whimsical and timeless collection of verses celebrating the joys of the grandparent-grandchild connection.
Written from a child's viewpoint, it is great fun to read aloud, and the enchanting, singable rhymes will remain as precious memories for life. Elaine's enjoyable, teachable insights entitled "Grandy Says" are sure to captivate reader and listener alike.
The Grandies is a delightful bonding experience for families who read to one another and just like to be together.
Available on Amazon.com
ne" target="_blank">